Say Thanks to Inspiring Female Leaders: Vote for our Financial Justice Champion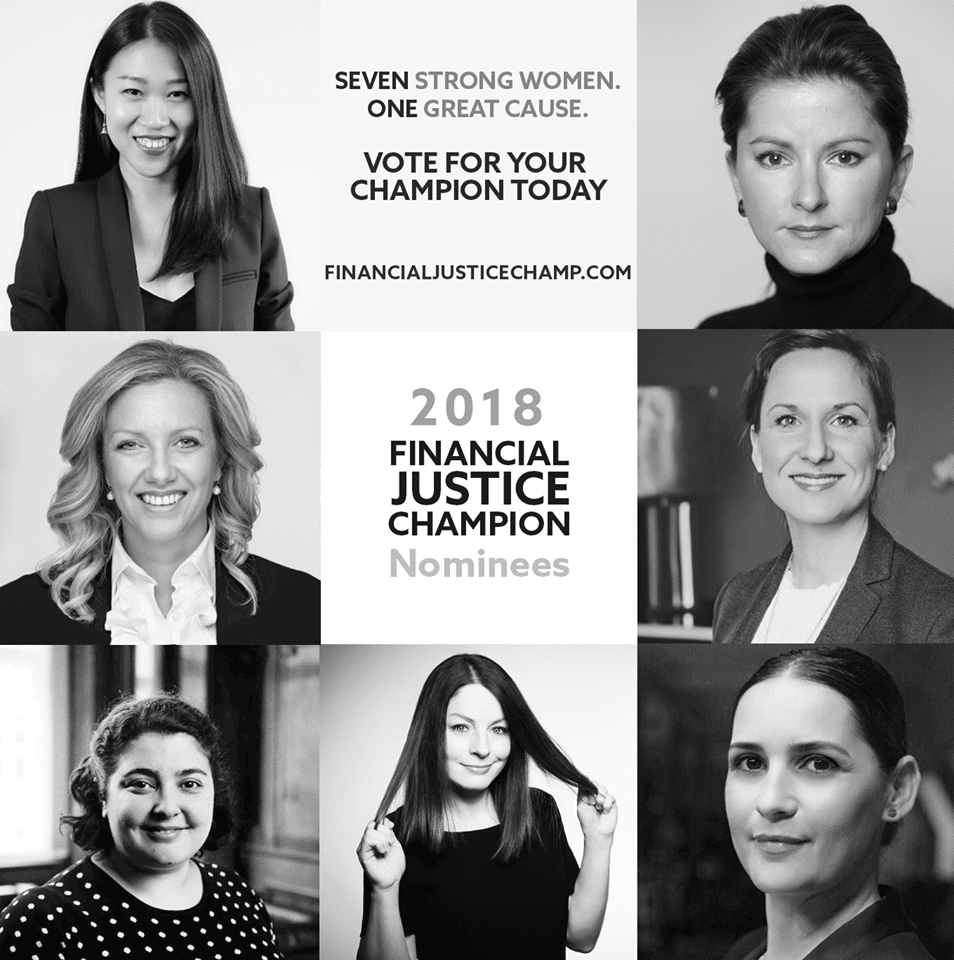 As well as helping to close the gender wealth gap through workshops and events, we think it's important to celebrate what's already being done. That's why we're launching our award for Financial Justice Champion, in recognition of the tireless work of campaigners in the field of financial education and equality.
Meet our nominees and vote for the woman you feel deserves our award. The winner will be announced at The Bridge: Women & Wealth Summit on Saturday 15th September (a few tickets are still available).
Nadine Heeman
Nadine is one of the few female private wealth managers in the industry. At Heemann Vermögensverwaltung she manages private client and fund money, which she invests in stocks, bonds, funds and ETFs. Nadine is co-responsible for portfolios totalling EUR 70 million. She has given up many hours of her time for free, sharing her knowledge with women – including at a number of our Mind the Gap workshops. Patient, passionately and deeply knowledgeable, Nadine is a natural teacher, and puts her skills to use as an ambassador for gender equality through financial insight and freedom. VOTE FOR NADINE.
Mali Baum
An instrumental figure in shaping opportunities for female founders within the Berlin startup ecosystem, Mali is partner & CEO of W Lounge, a professional business network for the German tech ecosystem, working with key players across industries to build more role-models into the market, and increasing awareness of women in tech. As founding partner & CEO of venture fund MAGDA GROUP, Mali aims to make diversity an attractive investment, and open the local tech economy to the world. She co-founded Women's Influencer (Wi Berlin), to bring more women to the forefront of businesses, both locally and internationally. She is also the global ambassador for SheLovesTech, a Chinese initiative in Berlin advocating for women in tech. VOTE FOR MALI.
Jingqi (Jasmine) Zhang
Specializing in EU-China cross border investments, Jasmine has worked on several international accelerator programs and now focuses blockchain-enabled startups. She is  Head of Europe for SheLovesTech, a global initiative showcasing the convergence of the latest trends in technology, entrepreneurship, innovation, and the opportunities it creates for women. The initiative's goal is to provide a platform for international and Chinese tech companies, investors, entrepreneurs, startups, and consumers together, to promote technology for women and women in technology. VOTE FOR JASMINE.
Cilia C. Kanellopoulos
Cilia is Head of Social Innovation at the Vodafone Institute for Society and Communications. Her work shines a light on how digital technologies can transform industries, impact governments and societies as well as empower people. Through research and events, the institute provides a platform for dialogue between thought leaders from science, business and politics with the goal of facilitating better access to technology for all sections of society. To achieve this, Cilia is committed to developing and supporting projects to strengthen women in the digital economy. VOTE FOR CILIA.
Dr. Mara Harvey
Mara leads UBS Unique, a groundbreaking global program to transform wealth management to better serve female clients and make gender equality investable. The initiative quantified for the first time the impact of gender pay gaps on wealth accumulation over a lifetime, and highlighted how factors accumulate to cause women's poverty in later life. To date, the project has reached over 27 million people with messages promoting equality and female financial confidence, and channeled over CHF 100 million of investment into companies promoting gender equality, one of the Sustainable Development Goals. Mara is also about to publish a series of children's books to address the pocket money pay gap. VOTE FOR MARA.
Katja Eckardt
Katja Eckardt, also known as Kat€, is the founder of Finanzdiva, an online women's finance magazine with a growing readership that's now in the tens of thousands (and now also our content partner). She is the author of two best-selling books that educate women about the world of finance, and is columnist for Materialist magazine. Her first book 'Reichtum ist Frauensache – Werde eine Finanzdiva' was published in the same month she gave birth to her first child. After a two-month break she started on the sequel, 'Reich gut aussehen'. Through her vast range of work, Katja is smashing stereotypes and making the world of finance appealing and accessible to women from all walks of life. VOTE FOR KATJA.
Jessica Schwarzer
Jessica Schwarzer is a renowned journalist. She has turned her passion into a career and became an finanziell investment expert. Since 2008 she is special correspondent for Handelsblatt, Germany's leading financial daily. She has also authored of four books on behavioral economics and investing, including the influential 'Einfach erfolgreich anlegen: Entspannter Vermögensaufbau mit cleveren Strategien,' which explains how people can cleverly invest their money without too much time or high costs, and increase their wealth while still sleeping well. Jessica uses her influence to advocate for women in all industries, and is a leading voice in the gender gap conversation. VOTE FOR JESSICA.
* * *
With a lineup like that, i's a tough call. We look forward to finding out who you think should be our Financial Justice Champion. Join us at The Bridge: Women & Wealth Summit to be there when we announce the winner (check our social media afterwards if you can't make it in person).